Rev. Gin Lam Kap
Church Pastor
(270) 421-3235
Pa Thang Cin Kap leh Nu Cing Go Lun te sung pan in 11/25/1982 Kum in Anlangh khua ah piang hi. Unau 10 pha lak pan a U pen hi a Anlangh Zolai sang pi ah tan lang pan tan 7 ciang kah in tan 8-10 BEHS1 Tedim ah kah in tan 9 zo hi. 2002-2005 dong BETHEL BIBLE COLLGE Tedim ah Pasian thu nungta sin na nei in BECHELOR OF THEOLOGY (B.Th) man hi.

March /13/2003 kum in a zi Mung Suan Niang tawh ki teng in tulaitak ta nu 1 tawh om uh hi.Sia Kam Hau in Tui Thang crusade abawl na pan in Gupkhiat na thu za in Heb.2:3,John 3:16 tawh Gupkhiat na thu ki tel cian na ngah hi. July 1997 kum in Tui leh KHASIANGTHO tawh ki tuiphum na Rev.Dai Khen Mang in pia hi.2006 kum in Nanphalong khua AG pawlpi ah kha 4 sung PASIAN gam leh Pawlpi a ding in nasem hi. 2008 clang in Pasian gelsak na tawh Malaysia pai in Dec/2013 kum in USA tung in tulai tak azi leh ata tawh Bowling Green,KY ah teng uh hi.
Rev. Gin Lam Kap Tangthu
Rev. Dr. Thang Za Kap Tangthu

Mission Pastor
(270) 421-4983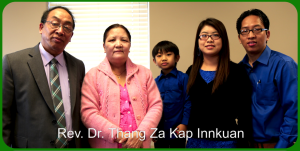 January 2, 1954 kumin Lophei Khua ah Pu Mang Khai leh Pi Vung Pau sungpan in piang hi. January 6,1980 Ni in a it mahmah azi Sianu Nu Khan tawh pumkhatsuahna nei uh-a Pasian piak ta pasal khat leh ta numei 3 nei uh hi.

Pilna Sina Tan 10 dong Thuklai State High School ah sangkah hi. 1979 pan 1984 dong Evangel Bible College, Yangon ah Lai Siangtho sangkah-a, B.A ( Bible Theology) degree ngah hi. Tua khit ciang Asia Evangelical College and Seminary, Bangalore, India ah Master of Divinity ( M.Div ) kah leuleu a, February 16, 1996 kum in M.Div zo hi. February 19,2011 kum ciang Living Water Bible Seminary, Yangon pan Pasian gam adingin a nasep na tungtawn in pahtawina saangpeen Doctor of Divinity ( D.D ) kipia hi.

Gupkhiatna thu tawh kisai alaibu gelhte

Vangik pua a, a gimmite aw ka kiang ah hong pai un ( 1980 ) Gupna kitaankik thei ding hiam ( 1981 ) Gamtatna om lo upna in asi hi ( 1983 ) Nasih ciang koi ah na pai diam? ( 1985 ) Pasian a kici khempeuh tungah Zeisu Pasian leh Van leh Lei hong pian khiat na, Dawi Leh Kau hong piankhiatna Hell meili pi a paidingte leh a suahtak nang lampi ( 2006 ) Kha Siangtho nial i cih in bang hiam. ( 2006 ) Vangam tun nang kal 4 ( 2007 )

Hih alaibu gelhteng lak panin na sih ciang koi ah pai ding na hiam cih a laibu at na tungtawn in Kawl kumpi in 1993 November kha sung in mat nading Lai ah suaksak uh hi. Kawlgam sung khempeuh ah matdingin zonpi in zongta uh hi. January 6,1994 ni, zingsang khua vak madeuh in Tedim ah galkap thukan a lianpen pa (Military Intelligent ), Tedim pan Police Bawk 2 pa leh Thuklai pan Police te honkhat in a inn hong buluh uh a Pasian huhna tawh suakta liailiai hi. India ah taito suak paha, India gam ah kum 8 sung bu in om hi.

Kawlgam sungah Pasian nasepna

Pasian na hunbit in nasepna pen March 11,1977 ni pan a hi a, Khamtung gam bup ah AG Pastor a masa pen pen in kiciamteh hi. Kawlgam bup AG makaipi Rev.Myo Chit in khut-nga in Pasian khut ah apna Lophei khua ah aneihkhit ciang Pasian nasep akipan ahihi.

Lophei khua AG church ah Senoir pastor, Monywa AG church ah Sinior Pastor, Tamu AG church ah Assistant Pastor, Thuklai AG church ah Sinior Pastor sem hi. India gamah a om sung in Aizawl ah Zomi AG pawlpi phuan khia a, Senoir pastor sem hi. India panin Kawlgam ah a ciahkhit teh Agape AG Church, Kalaymyo tawh khut kilen in Pasian naa sem kik a, Kawlgam bup ah Gupkhiat na thu Tentan pia in pai kawikawi hi.

May 2009 ciangin Malaysia ah pai a, Refugee status siau hi. Malaysia ah a om sungin Sentosa Zomi Church ah Senior Pastor sem hi. December 5, 2012 kum in A zi tawh USA ah Pasian lam honghon sak na leh UNHCR te thusiam na tawh a teengsuak dingin tung uh hi. Kansas city ah kha 8 sung aom phot uh hi. Tua khit ciang Bowling Green Kentucky state ah August 22,2013 ni in kikhin kik uh hi. May 2015 a kipan in Zomi Agape Church, Bowling Green City, Kentucky state, USA ah Senior Pastor sem hi.

Biakna lam ah makaihna

Tedim gam Tonzang gam AG pawlpi khempeuh kipawl na ah EP sung ah ki hel ngei hi. Khamtung gambup leh Sagaing Division ah a om AG pawlpi khempeuh kipawl na ( DC 4 ) ah EP in ki hel ngei hi. Kawlgam bup AG General Council member kitel na 1990 kum, in AG General Council EP dingin teelna ngah leuleu hi.

America gam sungah Pasian nasepna

America gam a tun ciangin state tampi ah Gupkhiat na thu Tentan va pia kawikawi hi. Pasian in Vanleng bekbek tawh Gupkhiatna thug ending in lengsak ta mai hi. Kawlgam ah Pasian na asep cil lai in Khua khat pan Khua khat ah sengpi tawh guai an pua in Gospel pai ngei hi. Tua khit teh By cycle tawh Pasian in Gospel pai sak to leuleu hi. Tua khit teh motor cycle tawh Pasian in Gospel pai sak hi. Tu in a hih leh America ah ama neihsa ngiat Mawtaw tawh a ut na khempeuh ah Pasian in pai sak ta mai hi. Topa tung ah Lungdam hang.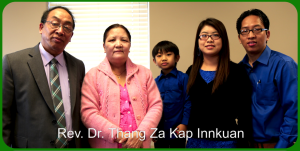 Rev. Dr. Thang Za Kap Tangthu